HTML>
Ronald K. Stoessell
UNO Department of Earth
and Environmental Sciences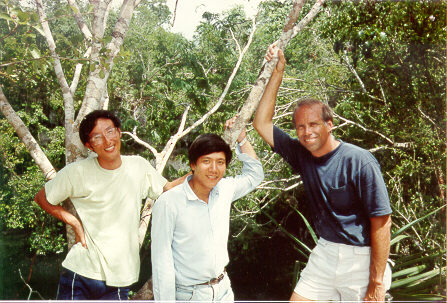 Ron with graduate students Yang Chen and Yong Chen at Calica in the Yucatan (1990)
Ron was born in 1947 in New Orleans, Louisiana, and grew up in the rice country in southwest Louisiana. He received his B.S. in Geology from LSU in 1968 and served in the mechanized infantry in the U.S. Army from 1968 to 1970. To his eternal gratitude, the Army sent him to Germany and not to Viet Nam. After his discharge, Ron went back to LSU in 1971 and received his M.S. in Geology in 1974. At LSU, he worked under Jeff Hanor and measured diffusion coefficients of cations in multi-salt solutions within porous media. Ron left LSU in 1973 for graduate work at UC Berkeley where he received his Ph.D. in 1977. He worked under Harold Helgeson doing a combined field and laboratory study of the geochemical origin of sepiolite at Amboseli, Kenya, determining the thermodynamic properties of the mineral. Richard Hay was his field supervisor in Africa.
As an undergraduate, Ron had worked as an exploration geologist for Union Oil of California in Lafayette, Louisiana. After graduate school, he moved to Houston in 1977, working for a year as a Research Geologist in Exxon Production Research Company. He began his academic career in 1978 at his alma mata LSU as an Assistant Professor on soft money in Coastal Studies at LSU. He joined UNO in 1982, becoming an Associate Professor in 1984, a Professor in 1990, and a Research Professor in 2004. Ron's research interests are in low-temperature geochemistry applied to environmental problems. He has been accused of being a resort geochemist because of his many years of research along the Caribbean Sea in the Yucatan. After Hurricane Karina devastated New Orleans in 2005, he set up a mobile chemical laboratory for doing water chemistry (Chemistry on Wheels or COW) in the field on his research projects.
Ron retired at the end of the 2006 fall semester but continues his research as Professor Emeritus at UNO, using the laboratory facilities on campus and his mobile trailer for field work. He splits his time between Louisiana and North Carolina. Following Hurricanes Katrina and Rita in 2005, he and his wife (Londi Moore) bought a house on a ridge west of Murphy, North Carolina, where he is expanding his research into ground-water chemistry within crystalline rocks of the Appalachian Mountains.
Ron and Londi also do nature-friendly residential developments: Old Mandeville Woods in Louisiana, and Cameron's Ridge in North Carolina in which she builds homes and he oversees development without the usual total destruction of the woods. Preserving wildlife habitat is important to them. They are both active in animal sanctuaries, shelters, and rescues, funding the spay and neuter program in the City of Mandeville and helping to fund St. Francis Animal Sanctuary in Tylertown, Mississippi, for the North Shore area of the Florida Parishes and for a while supervised the development of a low-kill Animal Shelter the Valley River Humane Society (VRHS) Shelter in Murphy, North Carolina, for Cherokee and adjacent counties. In March, 2009, he and Londi and a group of friends founded Logan's Run Rescue (LRR) for SW North Carolina and adjacent areas in Georgia and Tennessee. The rescue is named after their dog Logan who died tragically July 17, 2008, and it saves about 25 animals a month, through adoptions and transports. Please help support your local rescue, sanctuary, and humane societies.
| | | |
| --- | --- | --- |
| Ron has one child, David Stoessell, 35, who after a stint in the US Air Force, received his B.S. in 2003, in Architectural Engineering from the University of Texas in Austin. In 2010, he received both his license as a professional engineer in Texas and a M.B.A. in real estate development from Arizona State University in Phoenix. David lives in Austin and works as both a civil engineer and MBA doing land development projects. He is doing a commercial/residential development near New Braunfels, Texas called The Estates at Stone Crossing. David is married to Isis Romero who works as a reporter and news anchor in San Antonio, Texas. She is very beautiful and intelligent. | Ron is married to Yolanda (Londi) Moore, a former geohydrologist with a M.S. in Geology from UNO. Londi builds houses with a passion for design, see Nature's Escapes, and develops subdivisions with Ron that are environmentally friendly with wildlife servitudes and lots of green space, see Old Mandeville Woods and Cameron's Ridge. | In Louisiana, Ron and Londi live in the Teal Tree House on Lake Pontchartrain with their rascals: two Cavalier spaniels - grumpy Cameron and saintly Logan - with foxy Josey, una perrita de las calles de San Ramon de Costa Rica. Can you tell which is which below? In North Carolina they live near Murphy on a ridge looking north to the Snowbird Mountains. (No coastal flooding at 2000 feet elevation!) |
Ongoing Research Projects
Ron still has one M.S. graduate student, Lesley Prochaska, who will defend her thesis in late 2008. Leslie is working on salt-water intrusion in the shallow Baton Rouge Neogene Aquifer System. These aquifers are cut by the the east-west trending Baton Rouge-Denham Springs (BR-DS) Fault System. Her study is part of a South Louisiana Study to determine the sources of saline groundwater in shallow freshwater aquifers. The results of the South Louisiana Study have been published in the Transactions of the Gulf Coast Geological Society Stoessell and Prochaska, 2005. The chemical fingerprints of the dissolved salt in the aquifers imply the saline sources are Paleogene formation fluids that dissolved halite and moved up fault planes to enter the shallow aquifers. USGS researchers had previously assumed the saline source in the Baton Rouge area was in situ marine water downdip in the Neogene Aquifers which moved updip and crossed the fault plane in response to the freshwater withdrawal.
For 25 years Ron has been doing research in the Yucatan. He is currently examining the saline water under the interior of the Yucatan in deep sinknoles (cenotes). In 2004, Ron and Jim Coke, a well-known cave diver in the Yucatan, sampled some of the deep interior sinkholes. The jungle terrain and beautiful sinkholes make this an interesting place to do a study. The goals include explaining the origin of this water which begins as seawater and ends up being modified by evaporite dissolution under the Yucatan interior. The overlying fresh water composition is controlled by mixing due to thermal convection from heat transfer upward from the warm saline water into the cooler fresh water, producing a uniform brackish composition with depth, see Stoessell and Coke, 2006. Other projects being worked on in the Yucatan include determining the rates of calcite raft formation at the water surface in caves due to degasing of carbon dioxide, trying to find more examples of heat anomalies in the cenote haloclines that are thought to be due to local geothermal convection cells, see Stoessell et al., 2002, and measuring flow rates in tne underlying saline water. See Ron's list of journal publications ("Publications) for those related to the Yucatan.
Professional Work
Water Chemistry Data
In anticipation of retirement, Ron starting putting water compositional data on this web site. These are data that he has collected in various projects over the years. The analytical methods are described in the publications which are mentioned in the files. Some of the data are unpublished and some are from student MS thesis projects that he supervised. Please email Ron for instructions as to how to reference the data if you want to use it in a publication or for other public use.
Course Notes
email me at
ronstoessell@gmail.com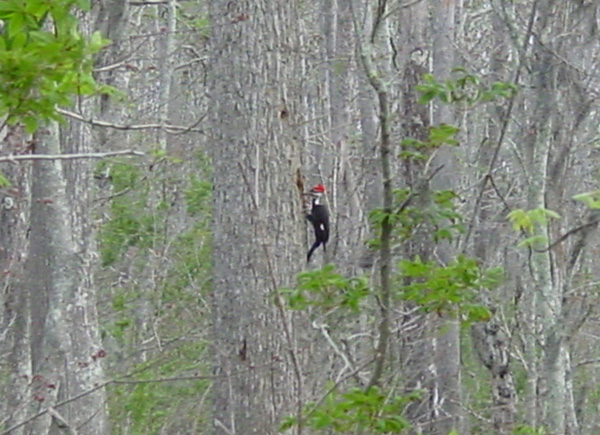 Pilated woodpecker behind the teal tree house (3/11/06)